… between Butch and Vishous.
And a huge thanks to the ever-so-gorgeous [so very very gorgeous that the sight of him makes my knees all melty and my palms sweaty and girly parts a-quiverin', thus releasing a bonding scent that smells oddly like freshly baked cinnamon rolls and Summer's Eve ] Marc-Andre for sending me this video. Kisses!
Oh, and here's a nice little Halloween Scare. The lovely man also sent me this. Science, as if I weren't already paranoid about the dead rising up and wanting to eat my brain and taking over the world. Merci beaucoup, mon cher!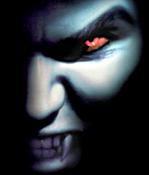 P.S. Speaking of big, badass vampires– Darling Sybil is having a give-away on her site. Here are the deets:
We've got a marvelous prize pack of the three ARCs of Lynsay Sands' new Argenau Vampire books:

* The Accidental Vampire (Argeneau Vampires, Book 7)
* Vampires are Forever (Argeneau Vampires, Book 8 )
* Vampire, Interrupted (Argeneau Vampires, Book 9)
* Plus some other little goodies that Gwen apparently has been trying to steal from Syb.

[…]

All you need to do to enter to win this fabuloso prize pack is comment about vampires on this post. What's your favorite part of vampire lore? Favorite vampire movies? Favorite vampire hero? How realistic are vampires in fiction compared to what could happen in real life?

I might love someone forever if they comment about the changing myths about vampires over time and how that reflected the society that it came from. Of course that may be asking for a lot. . .

Be sure to comment on this post about vampires and a winner will be randomly selected to win the three ARCs and the goody bag of toys.